Packaged Solution Service Offerings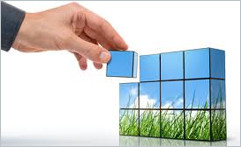 A majority of the world's largest companies rely on enterprise packaged applications from leading software technology companies, including Oracle and SAP, to run their day to day business operations. Selecting the right packaged application and solutions partner is essential in order for a company to leverage the industry specific, end-to-end, best-in-breed, functionality and processes to support their front and back office strategies and operations, while promoting best practices.
Whether it's a sales force automation solution for the sales team, a campaign management tool for the marketing department, a partner portal for channels, a website for customers, or a HR/Finance/Supply Chain system to support back office operations, these packaged solutions can get very complex. It takes experts in the packaged application field, with rich global project and industry experience, coupled with the technical know-how and a proven methodology in order to maximize the benefits of the investment.
Innover is a global IT Outsourcing leader that has over seven years worth of experience in designing, implementing, and supporting some of the largest packaged application systems for the Fortune 500. We provide our service offerings in a flexible dual shore model where our customers can benefit from our industry/technology experts onsite and our cost effective/scalable team offshore.

Here are the following services for your selection:
Sales Force Automation application implementation
Design and implementation of application for sales opportunity management. From sales leads/prospect through the different sales stages/cycles to close, these projects can greatly increase sales effectiveness.

Partner Relationship Management application implementation
Design and implementation of online portal applications to collaborate with channel partners and selected customers.

Customer Service application implementation
Design and implementation of applications for customer service representatives to effectively manage and resolve service requests. Solutions can integrate with various customer touch points including mobile phone, chat, web, fax, social media, and email. Online customer self service applications are also offered.

Business Intelligence application implementation
Design and implementation of packaged application data warehouse to pull together valuable enterprise data from different systems and data sources to provide rich analytical information and reports that result in competitive advantage and operational efficiencies.

Enterprise Resource Planning application implementation
Design and implementation of financial, human resources, and supply chain applications to be able to automate and standardize back office operations.


Packaged Application Upgrade services
Functional and technical services are provided to upgrade an existing packaged application to the latest version or release.


Packaged Application Integration services
Implementation of custom integration services or packaged application middleware and tools to connect packaged applications to other systems.
Packaged Application Support and Maintenance services.
Provision of 24/7 level 1,2, and 3 support service for packaged applications to assist in the systems maintenance, administration, bug/defect management/fix, and patch releases.