Application Development & Maintenance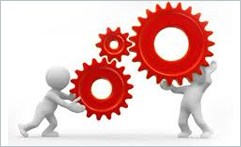 Innover is well known for its strong technical capabilities in design, development, testing, implementation, management, and maintenance services. With our excellent project management, process, methodologies, and tools, we can provide clients high quality and security application development and maintenance services including Application Development service, Application Management & Maintenance service, Legacy System Reengineering, Legacy System Migration, Mainframe System Upgrade and Migration.

Innover has built a strong global workforce of experienced IT talents and specialists with strong capabilities in various IT domains. Innover exploits technology to generate business value for our customers and helps organizations transform their businesses by leveraging cutting-edge technology to provide a competitive advantage.

Application Development
Application Development services include all stages from requirements analysis to design, coding, testing, deployment, and post go-live support. Innover application developers are experts in many fields of technology, framework, and platforms.
A consolidated on-site and off-shore business model ensures the customer's requirements can be fully understood.
We have a pool of technical resources who are experts in Java, .Net, RPG/AS400, MF-COBOL/COBOL, Open source based System, and Flex/Silver light related RIA development which guarantees the delivery of the talents required by customers in a timely manner.
Web-based application
Customer software development services
Enterprise solution
SOA
RIA Application
AS400/RPG
MF-COBOL
Java Application
.Net
Flex

Application Management & Maintenance
Application Management & Maintenance Services can manage your entire set of applications. Innover is capable of managing applications from legacy mainframe systems to web-based systems. We also provide packaged solutions such as Oracle, SAP, and Siebel.

Fast Response
Quick and accurate solutions by deep understanding of user requirements
Timely delivery and quality assurance
Best practice of procedures and methodologies to ensure smooth deployment
Helpdesk
Enhancement
Maintenance
Re-engineering

Migration & Modernization
With years of deep mainframe and open systems development as well as maintenance experience, Innover is highly skilled in migrating and modernizing legacy systems on a range of target platforms including UNIX and Linux.

Quick understanding of existing system and modeling
Architecting and modeling to ensure the stability of the technique
Well trained talents to minimize the cost of the time
Re-platform
Modernize/SOA enablement
Re-write/Re-engineering